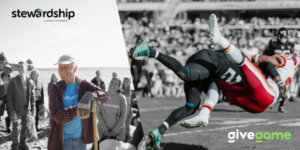 Fall is upon us, and with it comes fall fundraisers! Stewardship is here to help with three ways to make your fall fundraising campaign FUN.
1. Try a fitness tracker challenge.
Select a week or month for participants to try to get 10,000 steps on their fitness trackers. Have people sponsor them (like they would for a walk or run), giving an amount for each day 10,000 steps are reached.
For example, if your fitness tracker challenge is a week-long and a participant gets to 10,000 steps for six of those seven days, a sponsor offering to donate $10 per 10,000 step day would donate $60 to the campaign.
This is an easy fundraiser to do because it offers flexibility for participants. You might even choose to offer a prize to the participants who bring in the most donations or who walk the most steps.
2. Host a board game tournament.
Have a board game night where participants pay an entrance fee to play board games against one another in a tournament. Seek donated prizes from local businesses to be prizes for the event.
Be sure to share pictures of the winners on your social media and website with links to where interested parties can donate to your cause. Share how much the event raised and how much impact that amount holds toward your goal.
3. Create a fantasy football team.
Similar to the board game night, you can tap into fun options by having participants create a fantasy football team with pledged money going toward your campaign. If you have two campaigns, you can have participants choose which campaign they're playing to support.
Some sites, like GiveGame, allow you to create a fantasy football fundraiser. Learn more about GiveGame here.
With Stewardship's Electronic Giving Solutions (EGS) platform, you can manage donations and create fundraisers like the ideas above. With customized giving forms, event registration, peer-to-peer fundraising and more, EGS has all of the tools you need for your fall fundraising campaigns. Learn more about EGS here.