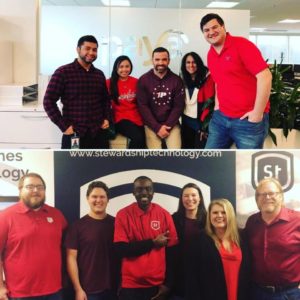 While nearly 80 percent of cardiac events can be prevented, cardiovascular diseases continue to be a woman's greatest health threat, claiming the lives of 1 in 3 women. That's a third of mothers, sisters, and friends.
On February 1, the Stewardship Technology teams in Reston, VA and Mount Vernon, OH wore red to raise awareness. Trey Swallow, director of sales, dressed in red despite the fact he was working from home!
You can find out more about Go Red Day and how to donate to heart health research by going to the American Red Cross Go Red for Women page here.