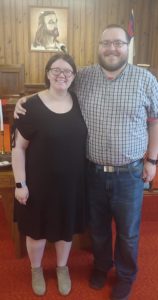 This past June, Stewardship's Faith Taylor was installed as the Lead Pastor at Warsaw Church of the Nazarene in Warsaw, Ohio. She served for several years as volunteer staff at Mount Vernon First Church of the Nazarene, where she was given the opportunity to learn ministry skills that serve her well in her new position.
Ministry is a lifelong passion for Faith.
Faith has known she was called to be a pastor since she was seven years old. In her younger years, she thought that might mean mission work. However, her burden for small churches and Christian education has led her to pastoral ministry within the United States. She is studying for her Master of Divinity Degree at Nazarene Theological Seminary. Her goal is to become a board certified chaplain so she can do hospice chaplaincy.
"I would love to write Bible study curriculum for publication," Faith shares. "I've always enjoyed writing my own lessons when I've taught Sunday School classes, and I would love to take my passion for writing and pair it with my passion for teaching. For now, though, writing sermons each week keeps me plenty busy!"
Faith loves officiating weddings.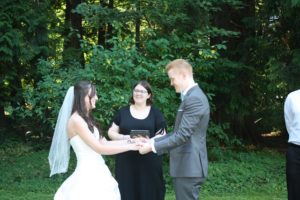 Faith had the opportunity to perform two marriage ceremonies in the past few months and has found that to be an especially enjoyable part of her ministry.
"I love weddings, and officiating them is so amazing! I love getting to know the couples during the planning process," Faith said. "It's a good reminder that not everything in ministry is 'difficult.' There are some really good days as a pastor, and these are some of those."