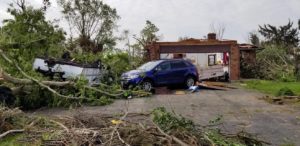 "We're okay." Those were the first words Stewardship's Julianne Manning heard from her dad, Chuck, at 10:30 PM the night of May 27, 2019 after thirteen tornados went through Miami and Montgomery counties in Ohio.
"I felt like I was in Narnia," Julianne's mom, Judy, said, describing the pine trees that now sat on her front porch step.
Although Julianne and her family were relieved that her parents were safe, their home was severely damaged. The days following the tornados were a rush as they worked to save as many of their belongings as they could. It was in the aftermath of this disaster that they found out they would have to rebuild their entire home.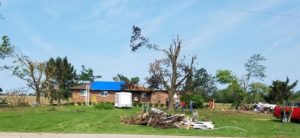 Friends and family began to ask how they could help. Julianne's mind immediately went to the peer-to-peer fundraising option within Stewardship's Electronic Giving Solutions (EGS) platform. Julianne was able to create a campaign, sharing about the damage and displaying pictures for prospective donors.
She shared the campaign on social media, as did others she was connected with. Her goal was to raise money to help cover what was not covered by insurance. Between this platform and other donations they received, Julianne's family raised over $10,000 to help with the costs of rebuilding.
The week after the tornado, Judy's devotional (My Utmost for His Highest by Oswald Chambers) for the day said, "If you do not cut the moorings, God will have to break them by a storm and send you out. Launch all on God, go out on the great swelling tide of His purpose." While no one ever wants to fall victim to a natural disaster, Chuck and Judy have seen so many blessings in the midst of this tragedy.
Find out how you can create your own peer-to-peer fundraising campaign with Stewardship Technology by going to this page.