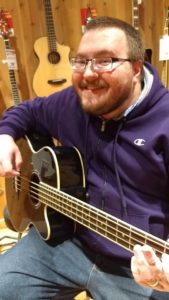 Stewardship's Grant Taylor has taken a lifelong passion for music and turned it into a ministry opportunity at Warsaw Church of the Nazarene. When his wife, Faith, was installed as the lead pastor this past June, Grant stepped up and took responsibility for leading music. Each week he creates digital accompaniment tracks to pair with the hymns, then leads the congregation in singing.
Grant's voice comes to life on stage.
Warsaw Church of the Nazarene isn't the first place Grant has led worship. In college, Grant led worship for a Sunday evening young adult service. For several years, he led worship for the youth at Mount Vernon First Church of the Nazarene.
About Grant's worship leading, Pastor Brian Daniels says, "The reason I love having Grant as a worship leader is two-fold. One – I love the humility that is so obvious as he leads us. There is a deep reverence for the moment and an all too apparent heart of gratitude when he offers a sacrifice of worship to God. Two – I love that he is committed to making sure that the songs we sing are theologically and doctrinally accurate. No word gets overlooked – he refuses to lead us in anything that will confuse in a proper orthodoxy of God, Jesus, the Holy Spirit and the salvation that is offered."